This posting is a little bit of a new venture for us - a summary of an application case study undertaken with our partners - which we hope will be a regular type of future posting. Please let us know your feedback!
CineSend is a media technology startup which offers SaaS storage, delivery and encoding platforms to the film and television industry.

CineSend's customers and their end users are specialist media professionals - including filmmakers, buyers, distributors, film festivals and media. This is a unique segment of the media marketplace dealing with high value content - both in terms of premium resolution packages intended for theatrical presentation and in terms of content that is very early in its distribution and release window cycle. Working in this environment demands attention to security at every stage of the media processing and delivery workflow - no one in the supply chain wants to be responsible for a high profile content leak; accountability is key.
The video files handled by the CineSend platform vary from MP4s to high quality ProRes 422 HQ files to JPEG2000 code streams from Digital Cinema Packages, to broadcast files like MPEG-TS. Encoding and processing the specialized formats demanded by this community and the distribution of very large high-quality files to their user-base is an exacting task. The requirements for the CineSend platform would historically imply large amounts of high-speed local video storage and a large investment in premium quality encoding equipment and security infrastructure for relatively infrequent, on-demand tasks.
When AWS Elemental announced their Media Services offering a AWS re:Invent 2017, CineSend recognized immediately that this new suite of tools would be well-suited to their workflow and the architecture was rapidly mapped out. After initial content ingest to their SaaS platform, Amazon Simple Storage Service (S3) and Amazon S3 Glacier provide the storage backbone for CineSend. This storage solution is complemented with flexible, on-demand, pay-as-you-go encoding using AWS Elemental MediaConvert plus additional stream-processing components. These AWS services proved straightforward to incorporate into our workflow.
Another required feature was the ability to create restricted streaming links for online screeners that users of the platform can distribute to their customers to enable content playback on desktop and mobile devices. These screener links provide a straightforward way for customers and end users to preview the licensed content without compromising any part of the protection envelope.
The choice for a compatible cloud-based DRM as a service (DRMaaS) offering was the EZDRM Universal DRM service, which is pre-integrated with AWS Elemental MediaConvert to protect the full range of adaptive bitrate streams. It proved easy to get Universal DRM encryption and protected playback working in a matter of days - a dramatic contrast to many months of frustration with a previous vendor. The last step of EZDRM integration was the simple hookup of the CineSend authorization workflow to protect when and to whom the DRM keys can be delivered.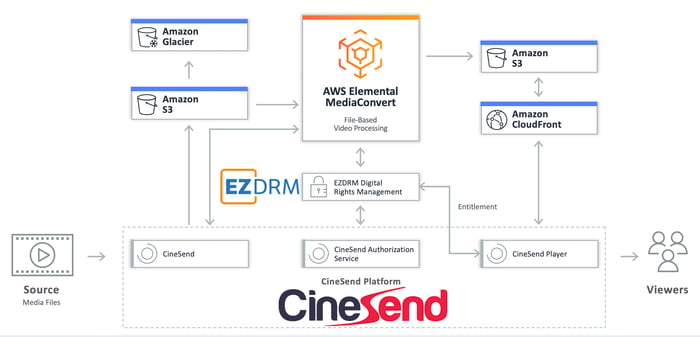 CineSend's encoding, storage and delivery platform has become the preferred tool for thousands of distributors, producers, and filmmakers globally. A cloud-based architecture gives us a flexible and economical foundation to enable premium quality, secure content handling. In particular, AWS Elemental MediaConvert offers advanced video processing as a maintenance-free serverless resource. Another plus is the partner cloud service offerings, such as EZDRM, that complement AWS Elemental Media Services and eliminate the complex setup and maintenance that would otherwise be a barrier to success.
"The AWS Media Services setup and usage model makes building high capacity video processing workflows a snap," comments Trevor Chan, Systems Architect of CineSend. "In addition, the whole experience with integrating EZDRM has been so painless that to this day I still wonder if we missed some steps in the configuration process!"
"It was a pleasure to work with the team at CineSend to implement their secure screener offering," commented David Eisenbacher, CEO of EZDRM. "Working with AWS Elemental paved the way to a straightforward integration of cloud components and provided a complete technical and commercial solution to CineSend."
"We created AWS Elemental MediaConvert to simplify the launch and delivery of on-demand video for our customers," adds Dan Germain, Senior Product Manager for VOD Compression at AWS Elemental. "CineSend is an exciting example of a customer innovating to quickly launch a new solution."