Streaming Media East Connect is just a week or so away and we're excited to be speaking on a panel at the event. Please sign up for free and attend our panel on OTT Around the World: Expanding Beyond the US on Tuesday, May 18 2021, 11:30 a.m. - 12:30 p.m. (ET)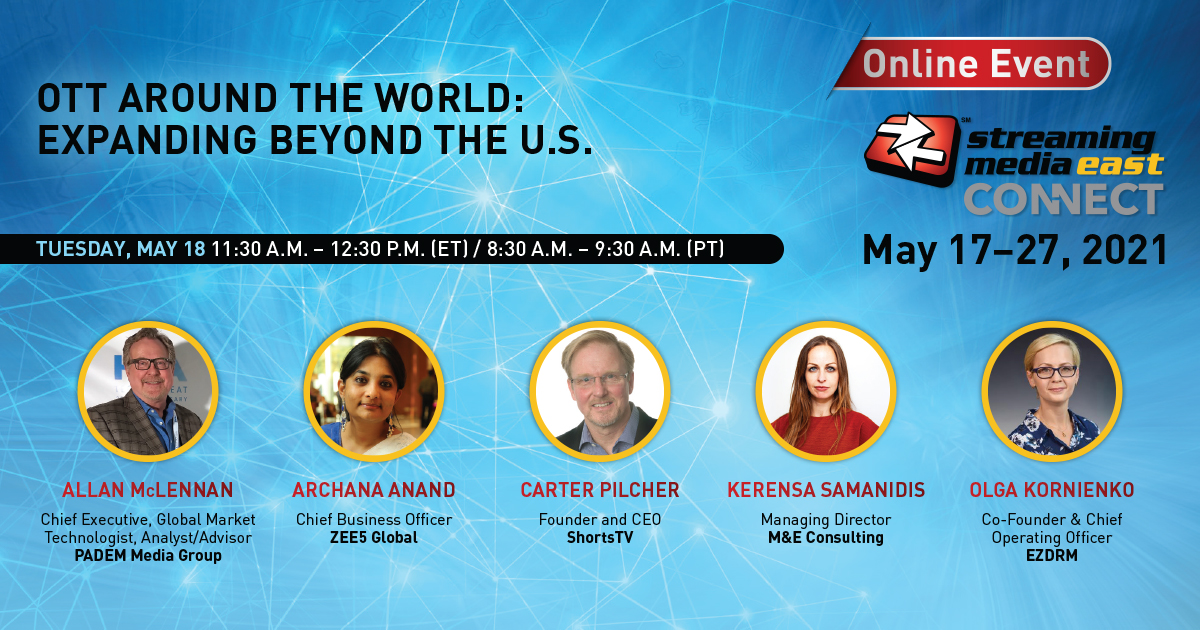 All of use in the industry are aware of the growing reach of OTT services. One of the benefits of the new base technology is enabling the service's ability to reach beyond national or regional boundaries to cater to a truly globalized marketing place. But extending service reach is more than just a technical challenge - every country can be different, in major or minor ways when thinking about demographics and device preferences.
Please join us on Tuesday, May 18 2021, 11:30 a.m. - 12:30 p.m. (ET) (8:30 a.m. - 9:30 a.m. (PT)) on a panel chaired by Allan McLennan, Chief Executive, Global Market Technologist, Analyst/Advisor - PADEM Media Group.
Our own Olga Kornienko, Co-Founder & Chief Operating Officer will be joined by Carter Pilcher, Founder and CEO - ShortsTV, Archana Anand, Chief Business Officer - ZEE5 Global and Kerensa Samanidis, Managing Director - M&E Consulting
We will be addressing technology for sure, but also the challenges of a complex content acquisition and licensing process, where content protection becomes more crucial than ever. It's a daunting proposition, but our panelists will offer insights into how to make it work.
Please share with the hashtag #StreamingEast