EZDRM, the specialist provider of Digital Rights Management as a Service (DRMaaS), today confirmed its broad support of the newly announced Secure Packager and Encoder Key Exchange (SPEKE) API.
The use of the SPEKE integration streamlines the key exchange process between EZDRM's Hosted DRM service and SPEKE-enabled encoders, transcoders, and packagers including the AWS Elemental MediaConvert, AWS Elemental MediaPackage, AWS Elemental Live, and AWS Elemental Delta. A straight forward, proven DRM integration as a core part of a video service workflow, empowers customers to expand viewership and create new revenue streams while maintaining full control over valuable video content.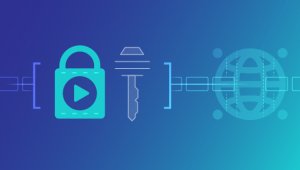 The SPEKE specification, developed by Amazon Web Services (AWS), sets a new standard for communication and authentication between encryptors and digital rights management (DRM) key servers. Encryptors include video encoders, transcoders, and origin servers.
The SPEKE-integrated Universal DRM service from EZDRM offers a fast, reliable key management interface, dynamic business rules, and API-driven content licensing control. Universal DRM includes a combination of Google's Modular Widevine and Microsoft's PlayReady technologies via Common Encryption (CENC) over DASH. This single multi-DRM solution for content delivery enables the usage of custom data enabling your business logic to seamlessly integrate into the DRM license issue process. EZDRM also supports SPEKE with Apple FairPlay Streaming to protect HLS service delivery to iOS devices and Apple TV.
"Our customers increasingly want the option to choose cloud-based or on-premises premium video workflows," said Olga Kornienko, COO of EZDRM. "We wanted to ensure that a single integrated DRM cloud service API could address all our customer's sophisticated requirements and enable a secure, scalable service with minimum integration complexity. Integrating Universal DRM with the SPEKE API solves that need."