The news release that we published this week has a fairly neutral title, but we think that our support for WisePlay DRM on Huawei's huge mobile phone and tablet footprint could have big implications for the video streaming marketplace.
The US Government has created an interesting market anomaly by effectively banning the deployment of otherwise standard US-sourced DRM technologies on Huawei branded products. As DRM security on all products is an essential part of the video streaming puzzle, and is therefore critical to consumers with these devices, Huawei has nurtured a trusted alternate source of the this necessary functionality by leveraging the ChinaDRM standard and launching its own WisePlay DRM ecosystem.
Video service operators need to support the broadest range of devices in order to reach the broadest audience, and Huawei is largest device supplier worldwide. It would be impractical to offer one service for the typical desktop and mobile platforms and another to support only Huawei devices.
As a proponent of standards-based DRM solutions, EZDRM could see the gap for a DRM service that offered all DRM options through a single interface with full support for multi-DRM streams in MPEG-DASH. So we have extended our Universal DRM service to include the Huawei WisePlay DRM technology and enabled video service operators to reach this broader audience without compromising security.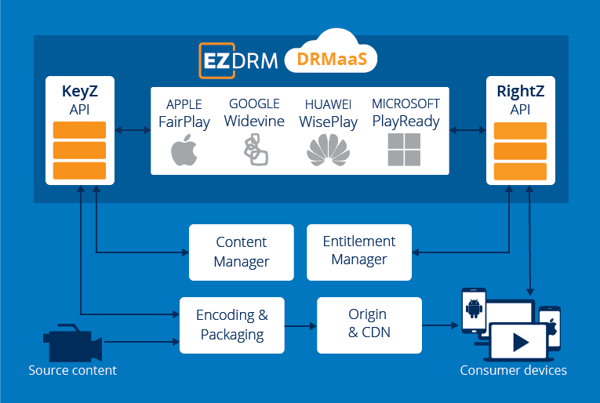 The EZDRM support for Huawei's WisePlay DRM as part of the Universal DRM service is important news in a number of ways:
The WisePlay DRM service is transparently extended to new and existing Universal DRM customers, who would benefit from addressing the large Huawei device ecosystem.
The Huawei WisePlay DRM enables security for multiple stream formats to meet the broad needs of international streaming services. But the DRMaaS support for CENC and MPEG-DASH becomes most critical when a service needs to support typical mobile and desktop consumption alongside Huawei devices and use a single secure stream.
Our extended Universal DRM service pricing has not increased. Customers will continue to pay for licenses scaled to match the actual service used. We hope, of course, that the enhanced reach of the secure streams will help to grow your business alongside ours!
Talk to us about a no-cost POC account to try out this new offer!
The team at EZDRM
Digital Rights Management. Simplified.