We feel very honored that the readers of Streaming Media have given us the confidence of their votes to make the finals of the 2019 Readers Choice awards!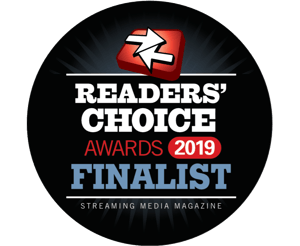 The finalist list and winners will appear in the Nov/Dec issue of the magazine, and be announced live at Streaming Media West in LA.
"The Streaming Media Readers' Choice Awards are the only awards in the industry that are decided by the people who actually use these products and services every day," says Streaming Media VP & Editor-in-Chief Eric Schumacher-Rasmussen. "The finalists represent a shortlist of the technologies that are moving the online video industry forward, and if you're looking for solutions to help you maximize the quality and efficiency of your streaming video workflow, look no further."
We are very pleased to celebrate this recognition with our customers and partners in the industry - and look forward to being amongst the winners!
The EZDRM team
Digital Rights Management, Simplified.