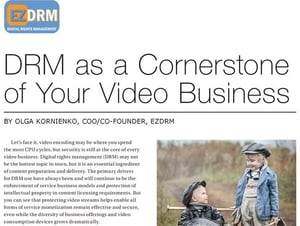 EZDRM is pleased to highlight it's article, published recently in the latest Streaming Media Superguide and as a part of the current magazine issue. We are choosing to highlight the pivotal role played by DRM solutions - and particularly DRM as a Service (DRMaaS) - in the business of video distribution.
Read the EZDRM keynote article here.
EZDRM is pleased to be able to comment on current industry topics and concerns - please subscribe to our blog/news feed to keep up to date with our inputs. And don't hesitate to add a comment if you like - or disagree - with our viewpoint.
We hope you continue to enjoy our perspectives.
Sincerely,
The team at EZDRM
Digital Rights Management, Simplified.