EZDRM was pleased to be a part of the recent panel session at Streaming Media West Connect 2020 - Streaming Ad Tech Relationship Advice, with our experts weighing in on their key issues. The panel examined the differences between ideal relationships and practical realities in the streaming and ad tech marriage.
The full article by Nadine Krefetz on the panel discussion now published in Streaming Media.

Our panel consisted of industry leaders from a variety of segments of the OTT and advertising ecosystem:
Larry Allen, general manager and VP of addressable enablement at Comcast
Jeremy Brown, associate director of video delivery at Optus Sport
Jarred Wilichinsky, SVP of global video monetization and operations at ViacomCBS
Yazmin Wickham, senior director of digital platform management at Katz Networks
Olga Kornienko, co-founder and COO of EZDRM
In an ideal world, digital advertising should work like broadcast advertising, but with even better targeting and variable ad pod lengths. However, the ad tech business has the nuances of stock market trading, combined with the technical challenges to support all devices of the splintered multi-platform world that is streaming. And everyone involved knows there are gaps between where things are and where they should be.
Allen set the stage for the overall shape of the technology discussion by stating "The foundation of how we all trade and execute [video ad insertion ] today, whether it's client side or server side, is based off on IAB specs." Subsequent discussion suggested that industry guidelines may come from IAB, but all of the players in the ecosystem implement their own variation.
The panels perspective on ecosystem expectations was clearly influenced by legacy broadcasting. experiences. The general feeling is that consumers are expected to want a mostly lean-back experience, in which content and ads arrive in a packaged bundle, with well-timed ad breaks (and with fewer ads than on broadcast) targeted to their interests. Those operating the services demand the promise of getting a good price for each avail and selling out their inventory. Brands expect accurate measurement for their ad buys—an audited mix of frequency and reach (so the same ad isn't being served to the same viewers over and over again)—and would prefer that all advertising on digital and broadcast use the same kind of measurement KPIs. And nobody wants fraud or stream hijacking to spoil the party.
Generally speaking, most of these expectations are met by the newest breeds of Server Side Ad Insertion (SSAI) technologies. That includes the protection of stream/ad integrity with envelope use of DRM-enabled security.
EZDRM presented its high level diagram of how this security is enabled today, made scalable to larger audiences by cloud implementations.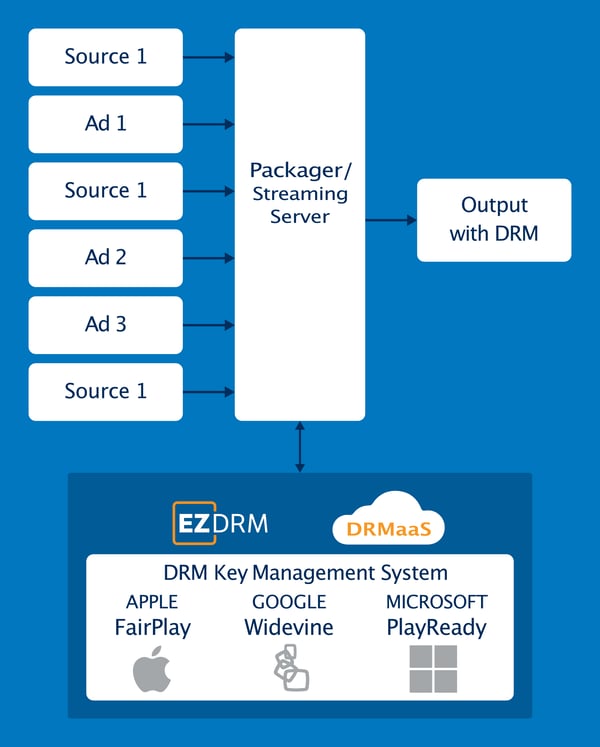 DRM certainly seems like an essential step towards addressing the challenges of ad fraud. DRM can work on SSAI or CSAI. "Reporting and tracking of whether or not an ad actually played at a client becomes more definitive, because you can't trivially crop it out," said Kornienko. "It would be beneficial to the service provider and brands to know that nobody took a stream, and … put somebody else's ads in." Without such security around the whole of the content, pirates can steal and re-distribute live streams, substituting their own advertising in the content breaks so that they can illegitimately monetize them.
Others agreed with the general trend in the industry - "In terms of tracking as it pertains to SSAI, when we can, we always push to have tracking fire from the client," added Wilichinsky. "It does alleviate ad vendor problems and difficult conversations on false positives. However, over the years, server-side tracking and issues have gotten much better. If all the same signals are available and if issues are not there, I do think serious conversations would be had moving to a full server-side tracking model."