We wanted to draw your attention to a stellar example of partner engagement - this comes from our friends at NexPlayer - who have developed a fully worked example of the use of EZDRM in conjunction with their player SDK.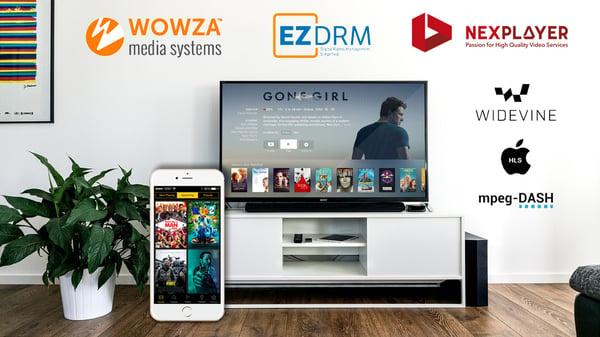 NexPlayer has positioned itself as the the only Player SDK that offers multi-device support for both HLS and DASH streaming using Google Widevine as the DRM technology. Without a player SDK that can support Widevine on Apple HLS format content, streaming service providers would have to include MPEG-DASH in their architecture or apply multiple DRM technologies to protect their content.
In this fully working example setup, Wowza Streaming Engine, one of the worlds most popular streaming server solutions, is used to support packaging and delivery of content. Wowza's integration with EZDRM offers a robust DRM as A Service (DRMaaS) solution for the management of encryption keys and DRM licenses. This combination of technologies from three partner teams illustrates their close working relationship and the depth of support that customers can expect to receive.
EZDRM's DRM as a Service (DRMaaS) solution offers a competitive edge in video service implementation and operations. It spans both sides of the DRM infrastructure, including the way content is prepared for consumption (encoded and packaged), and the delivery to each and every device or player that's used by a consumer. Despite more stringent protection requirements associated with today's premium 4K and UHD content, the consistent demand is for a more or less invisible DRM service that will never adversely impact the user experience.
Want to know more? Let's talk!
The Team at EZDRM
Digital Rights Management. Simplified.