We are certainly living in challenging times! Wherever in the world you might be based, we at EZDRM would like to express our support and gratitude for those on the front lines and those keeping essential services operational - including the news and information services on which we rely so much.
We are striving to play our part in supporting the streaming business community with full business continuity for our services. Of course, we are positioned well to be able to achieve this with 100% of our DRM as a Service (DRMaaS) technology running in the cloud and taking full advantage of the scaling and redundancy that this architecture offers.
DRM as a Service (DRMaaS) offers that competitive edge in video service implementation and operations, both in the way that content is prepared for delivery (encoded and packaged), and as it is delivered to each and every device or player that's used by a consumer. Despite more stringent protection requirements associated with today's premium 4K and UHD content, the consistent demand is for a more or less invisible DRM operational resource that will never adversely impact the user experience.
Let's look at the key qualities that you should value in your DRMaaS vendor.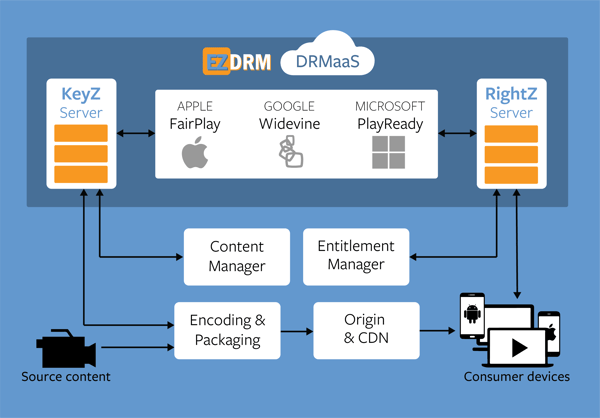 As you set up your video service and consider DRM, you don't want a technology choice or business relationship to be a limiting factor in your service's future. Consider the questions of:
Feature completeness - no limits on the configurations of business model supported.
Ease of integration - straightforward linkage between the service and your business back end.
Scalability - cost effective scaling of security from the first stream delivery to market domination.
Reliability - no business losses due to downtime or capacity limits.
Standards support - tracking the fast moving world of streaming technology and industry alliances.
Business transparency - easy to understand reporting and billing.
There's also the consideration of where the DRM components that are required will be hosted and how they will be managed over time. A fully managed service means that you, as a video operator, do not need to be concerned about:
System setup - all initial service configuration and reporting management is undertaken as you set up your account
Security - all system data is maintained in a fully hardened environment, so there is no concern over unauthorized access to key data or business critical transactions. Personally identifiable data is limited by design in order to comply with privacy regulations.
Monitoring - the management of service operation is covered by expert engineers on a 24/7/365 basis. Any issues that arise with operation or performance are flagged and resolved before becoming business critical.
Resilience - using state of the art cloud resource management techniques, resiliency and redundancy is automatically addressed. Issues that arise with communications or compute resources are resolved in real time.
Upgrades - an important part of this business is keeping up to date with the evolving technology. As the DRM versions from the various vendors evolve and new features are released the integrated service can be ready on day one.
And because your business is always on the line, the vendor needs to both have a track record in service delivery continuity, and an approach that will survive the twists and turns of market and business evolution - including addressing the challenges we are faced with today.
Want to know more? Let's talk!
The Team at EZDRM
Digital Rights Management. Simplified.