The EZDRM team will be at Streaming Media West in Los Angeles this November, and are featured in a special panel session of the benefits of microservices in streaming video architectures.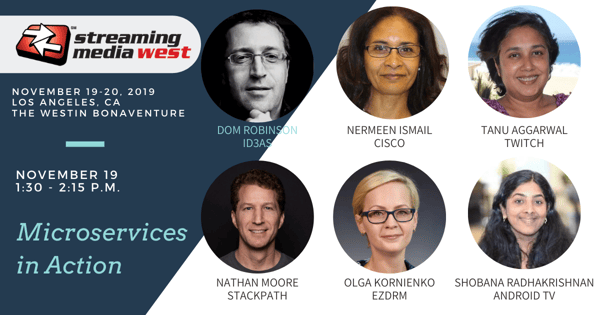 Our very own COO, Olga Kornienko is joining a panel that will be lead by Dom Robinson , from id3as and Streaming Media, UK. and to explore how the use of microservices has moved from theory and planning to offering a real solution in the optimization streaming deployment - small is definitely looking beautiful in this context! What has taken this approach to highly available, scalable and agile offerings from the theoretical to established common strategy? While looking at a few real world examples of microservices in action, there's an opportunity to explore new frontiers in introspection, orchestration, containerization, and wider virtualization strategies.
Don't miss this session - and take the opportunity to meet with Olga at the conference or networking events.
The team at EZDRM
Digital Rights Management. Simplified.