In a week that saw a ground breaking announcement from WarnerMedia on breaking the legacy movie release windowing system, a panel of end-to-end security and piracy experts debated the current state of the landscape at this year's Content Protection Summit (CPS).
The panel discussion - part of the CPS 2020 Summit - was sponsored by SHIFT and moderated by their VP of strategic initiatives, Eric Wynalek. The presentation included data on what has been seen on the piracy front in 2020, but also insights into trends seen from other perspectives in the security and revenue protection worlds. From these standpoints, it can be concluded that viewers are accelerating consumption of both legal and illegal services in our stay-at-home environment.
"It's obviously a very different world, with international content being released in different ways on SVOD services, and the continuing diversification of subscription video options. That will only continue to drive pressure on both the need for legal content security, and the interest in pirate content," concluded the panel.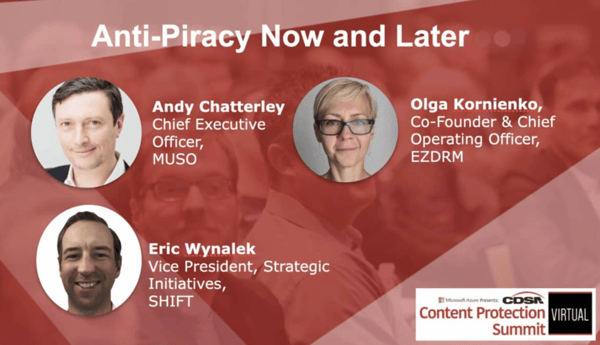 Wynalek was joined in this discussion by Andy Chatterley, CEO of content protection and piracy data firm MUSO and EZDRM's own Olga Kornienko, co-founder and COO.
EZDRM was able to report a significant boost in security activity over the course of 2020 with with a more than 60 percent increase in the rate of licensed content delivery compared to the prior year, and a more than 200 percent increase demand for DRM services since the start of the pandemic restrictions.
"There is no doubt that the industry pivot in business models and distribution priorities during this period has encouraged a focus at service operators on the need for more comprehensive streaming security solutions," commented Kornienko. "Our straightforward approach and simple integration process has helped meet the increased demand."
A replay of the entire discussion is available via the MESA site.
Thanks for reading!
The team at EZDRM
Digital Rights Management. Simplified.