As piracy of online video and audio content continues to be a significant issue for our industry, Radiant Media Player has joined forces with EZDRM to offer an easy-to-use, comprehensive secure player solution.
EZDRM is the original specialist in Digital Rights Management as a Service (DRMaaS), offering a straightforward, hosted, managed multi-DRM solution for protecting and monetizing your video content, making it easy to support live, on-demand, downloadable and offline video delivery service and providing complete flexibility in business model support.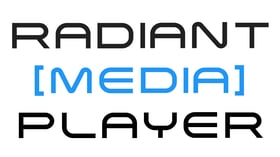 Radiant Media Player works smoothly with DASH and HLS content streams for live, DVR and on-demand video streaming. Using EZDRM technology Radiant Media Player customers can rapidly deploy a solution to deliver DRM-encrypted content to their viewers. The player supports standard streaming protocols such as DASH streaming with Widevine and PlayReady DRM alongside Apple FairPlay streaming in HLS.
Radiant Media Player has worked towards making the integration between Radiant Media Player and EZDRM as straightforward as possible. The Working with EZDRM Guide is now available and provides an effective way to get started.
Hop on the next-generation streaming train and enjoy all Radiant Media Player rich features in conjunction with the EZDRM DRM service to securely deliver content to your audience!